RACE REPORT
WERA North Central Regional Sportsman Series
Sunday May 13, 2001
Putnam Park Road Course
Mt. Meridian, Indiana


ACIDFast Racing Returns to Form at Putnam Park

Dubé lands Heavyweight Twins class win on Ducati 748 in regional action

--------------------------------------------------------------------------------


ACIDFast Racing's lead rider Michael P. Dubé battled back from adversity to take a definitive win in WERA regional Heavyweight Twins competition at the Putnam Park Road Course. Putnam Park www.putnampark.com, a 1.7 mile, 10-turn road course located in rolling hills 40 miles southwest of Indianapolis, was the setting for the opening round of the North Central Sportsman Series, a regional motorcycle racing series sanctioned by WERA Motorcycle Roadracing. Dubé, seen here during action at Putnam from last year, was battling back from a horrific crash sufferred during qualifying at the opening round of the AMA Pro Racing National series at Daytona Beach just over two months earlier. A stuck open throttle ended his qualifying session with a crash in the left hander that leads out of the infield up onto the banking. Still, he qualified on the sixth row for the Pro Thunder main event, but was unable to compete due to multiple injuries.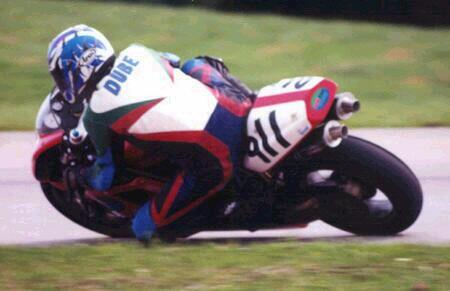 "It was good to get back out on the track," asserted the precise, yet pneumatic, physician-racer. "I went out with some trepidaton for my first practice session. Inadvertently, I went out with special Daytona tires someone had left on my spare wheels, which consist of a very hard compound on the left side of the tire to deal with the banking. But it is not what you want for around here, and the rear end nearly came around on me several times during that first session. I very nearly packed it up and went home. I thought I had simply lost my nerve. But the Dunlop technician pointed out the problem, and things were back to normal once I changed back to some soft compound slicks."
Sunday's action saw Dubé and AFR enter several different class events. "My bike was best suited for the class known as Heavyweight Twins, intended for larger-displacement twin-cylinder motorcycles," said the imperious, yet emollient, competitor. "I put on a soft compound front slick and a medium rear. I decided I was just gonna flick it and stick it. We were railin', dude." Starting on the front row of the grid, Dubé trailed the pole sitter into turn 1, but by lap 3 he passed definitively and permanently into the lead, under braking into turn four. At the checkers at the end of the eight lap event, he had accumulated a comfortable ten second margin over his closest competitor.
Dubé collected his first competition win since 1998. "It was good to be back on the box. Except, they didn't have no box. But I felt like I was on some kind of box. I just couldn't figure out that little dude on top of the trophy. I mean, what the hell is that? It looks like he is wearing a pair of briefs. What kind of crap is that? What does that have to do with freaking motorcycle racing? I think the trophies were leftovers from some underwear show. And I think the dude shaves his pits."
ACIDFast Racing will be returning to action on Sunday afternoon June 3rd, again at Indiana's Putnam Park Road Course. The event will be a round of the WERA National Challenge Series, the national counterpart to last week's regional action and is expected to draw entrants from all around the country. As always all friends of ACIDFast Racing who make it to the track are welcome to a complimentary ACIDFast Racing T-shirt. Those unable to come to the track can purchase AFR apparrel on the ACIDFast Racing web site at http://www.acidfast.com/embroid.htm

RACE REPORTER info@acidfast.com