ACIDFast Racing Succeeds at Summit Point
Dubé secures 5th place finish in small ProThunder field
--------------------------------------------------------------------------------

August 3-5, 2001
Summit Point Raceway
Charles Town, West Virginia

Sweltering heat and humidity greeted M. Philip Dubé and the other AMA ProThunder racers for this round of competition, held in conjunction with the WERA National Challenge Series instead of the customary AMA Superbike series event. The venue for this event was none other than Summit Point Raceway, lovingly known as "Scummit Point", in scenic eastern West Virginia just over an hour away from Washington, DC. "It was a fascinating facility," remarked the imperious, yet unpalatable, Dubé. "Sort of 'Trailer Trash meets asphalt', except most of the corners were concrete. I am almost at a complete loss for words."


An incredibly small field of 11 riders were assembled for the event, with timed qualifying placing Dubé 5th in the field to start on the second row of the grid. Series regulars Tripp Nobles (Buell), Tom Montano (Ducati), and Advanced Motorsports Jeff Nash (Ducati) took the podium finishes while Buell-mounted local Brian Bemisderfer took fourth ahead of Dubé, who took a lonely fifth place after dispensing with Desmoto Sport's Mike Krynock, who eventually retired with mechanical woes. Full race results are available at http://www.amaproracing.com/01rr/summitpoint.pdf.

Dubé and ACIDFast Racing are looking forward to their next event at none other than Willow Springs International Raceway http://www.willowspringsraceway.com, in Rosamond, California. This round of the AMA Superbike series will be held September 14-16 at the Antelope Valley venue. "I always love to come back to my old home track in the desert", exudes the irreparable, yet verrucous, racer-healer. "I don't care if it is a hundred-and-freaking-ten degrees, I done been training on the exciting new ACIDFast Racing bicycle. Look the freak out, America. This thing does BITCHIN stoppies." Dubé is seen here wearing the sold-out limited-edition hi-tech 100% VISA SPORT fabric by Millikin AFR running shirt, along with a custom-crafted ACIDFast Racing bicycling helmet. As always, the entire line of AFR apparel is available for viewing at http://www.acidfast.com/embroid.htm.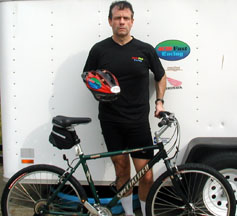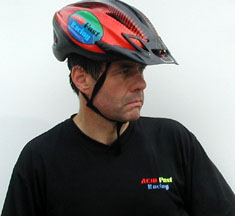 RACE REPORTER